Welcome,
My name is Jennifer Gaudo, and I'm a Montreal-based real estate agent who's committed to offering the best real-estate service in Montreal! Whether you're renting, purchasing or selling property, I'm here to make the entire process 100% stress-free. This means I'll take care of absolutely everything: If you're looking to rent or buy, I'll find the properties that match you perfectly. And if you're looking to lease or sell, I'll make sure your home is ready to be seen without you having to lift a finger!
I operate out of Montreal, but my network extends virtually over the entire globe. So whether you want to relocate within Montreal, Quebec or abroad, or you're looking to spend time in La Belle Province, get in touch and I'll make sure everything you need is covered!
I'm a member of Century 21 Vision, a chartered group member of one of the top brokers in Canada, and a winner of the Double Centurion award.
Looking to rent or let? I'm one of the only rental brokers in Montreal. With my special rental listings, I can help you find your next home or business space for FREE. And if you're looking to let, I'll make sure you find the right tenants, right away!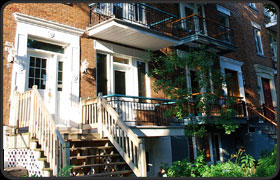 Looking to move to a new home or invest in revenue or commercial property in Montreal or Quebec? I'll be able to access thousands of listings to help you find the property that suits you perfectly.
If you want to sell your home investment real estate, listing with me means a completely worry-free process! Agents and potential buyers across Canada will be able to view your property so you get the most out of the sale!